Working from home
25.01.2021
Good morning Sycamore Class! I hope you are all keeping busy and are looking forward to another week of exciting activities! I have put in a few practical activities this week so we don't get too bored or stuck in our chairs!
I am looking forward to seeing you all in the zoom calls this week. I have been sorting out my fabric for my patchwork (sewing) and there is a bag of fabric just inside the door of my study. Lucy (my cat) decided to go through my bag and pull out some soft fabric to sleep on (or in)! So she was sleeping behind me for most of our zoom calls last week. it's her new favourite place to sleep. I think she has enjoyed listening to you all!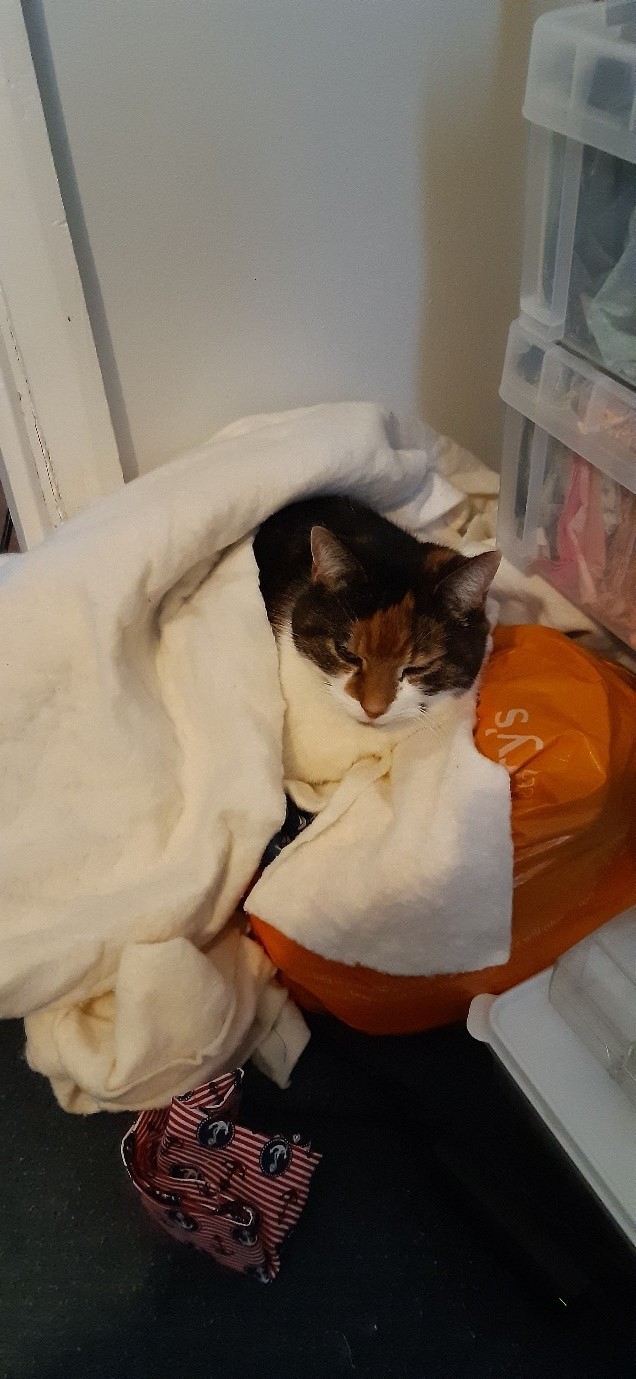 Zoom calls
Monday – Maths activities
Tuesday – English – Discussion of part of our book.
Wednesday – Welcoming Laura to our class. Come to the zoom call with some things you want to tell her about our school and class. We could also look at some of the Mayan god research you have completed.
Thursday - Looking at instructions and evaluating then with Mrs Partridge
Friday - Art with Mrs Partridge
English - Reading
For reading this week, you are going to create a presentation. You will need to decide how you are going to present this presentation. You could film yourself doing a report, you could create a leaflet or information sheet or create a model with addition notes and labels to explain what you have learnt.
https://www.bbc.co.uk/bitesize/topics/zq6svcw
You need to choose one of the pages listed on this website and read/watch all the information included on it and make notes which will be the basis of your presentation. You can then use the rest of your reading time this week to produce your presentation about what you have learnt about the Mayans.
Alternatively, you could find a chocolate recipe to read and make and then write a review telling my how easy/hard it was to make and how successful/tasty it was!
English - Writing
We are going to start looking at a new book this week. It is called Middleworld by J&P Voelkel.
This is what is on the back cover:
"As I see it," said Max, "all that stands between humankind and the end of the world is two talking monkeys, a crazy archaeologist covered in red paint, and a couple of kids with blowguns. Am I right?"
Fourteen-year-old Max Murphy, video-gamer extraordinaire, is furious when his archaeologist parents cancel the family vacation to go on a dig in Central America. But things go from bad to worse when Max is summoned to join them, only to discover that his parents have vanished. With the help of Lola, a fast-talking, quick-thinking Maya girl, Max embarks on a quest to find out just what's going on. Soon Max and Lola are running for their lives in the perilous rainforest, as they unlock ancient secrets, meet mysterious strangers, and begin to understand that, in San Xavier, nothing is ever as it seems.
Fate has delivered a challenge of epic proportions to Max Murphy. But can a teen whose biggest talent is for video games rescue his parents from the Maya Underworld and save himself from the villainous Lords of Death?
Task 1 (Monday and Tuesday)
Read the preface and chapter 1. These are quite long and will take a bit of time. You might like to share it with one of your family members. There are some questions your family member could ask you as you go along or after you have finished all the reading. These do not need to be written down.
Create a summary (an overview) of what you have read so far. Can you write it in less than 100 words? Less than 10?
This will probably take at least two English sessions.
Task 2 (Wednesday)
Read chapter 11 of the book. (its saved at the bottom of the page) How is this part of the story like a video game?
Make a list of 5 ways Lola and Max needed their skills to survive. Who has the most skills? You might like to create posters of each of the characters.
Choose one of the characters and write a character description. You will need to include: notes about their attitude, their skills and some examples of both of these from the story.
Task 3 (Thursday)
Read the instructions about how to capture Cacus. What do you think about the instructions. Are they good? bad? What is good or bad about them?
A good set of instructions will include:
a title and sub-headings,
an introduction,
a list of 'things you will need',
step- by-step instructions,
numbered bullets to make the order clear,
imperative or 'bossy' verbs,
modal verbs (must, should, might),
good use of adjectives, adverbs and special or technical words to be precise,
conjunctions or adverbial phrases to join two ideas together,
parenthesis to add extra information.
Your job is to 'mark' the instructions. What would you write if you were going to give feedback on these instructions? What do you think was done very well? Is there anything you would ask them to improve?
Task 4 - Friday
https://www.youtube.com/watch?v=ymgszCIoHbA
Watch the video and discuss the information that was contained.
This is a sentence that I wrote using a colon to start a list.
What you need to remember when writing a list: include a colon after the first piece of information; if the items in the list are longer then use a semi colon; if the list is shorter items you can use commas; you can use bullet points and remember to end with a full stop.
I have also used several of these in the instructions I have written this week. Can you find them?
Now you need to create your own lists. Can you write one with commas, one with semi colons and one using bullet points?
You might like to use these sentence starters:
What you need if you are in the South American rainforest,
Ways to beat a tough level in a computer game,
The skills you need as a gamer are,
The best board games are.
English - Spelling
I would like you to look at your work from last week and find some words which you found difficult to spell or needed to correct. You are going to use your spelling time this week to learn these words. You can then get someone in your household you test you on them at the end of the week.
If you did not have any tricky spellings last week then you can choose 10 words from the Year 3/4 or Year 5/6 word list which is saved at the bottom of the page.
Maths
Task 1
This week we will continue with our previous packs of multiplication and division and the geometry one from last week.
Task 2
I have recorded a couple of videos showing the written methods we use for division. You can watch them and then have a go with the method you feel most confident with. You can make up some questions to practise these methods using a dice, but remember, you will probably get remainders (left overs). (If you are doing the long method, please start off by dividing your numbers by 25 until you feel really confident. Remember to check your answers on a calculator regularly and try and work out what went wrong if the answers are not the same.
Task 3
Compare the Calculations
There are four multiplication calculations hidden below.
Your challenge is to put them in order, from easiest to hardest. Try to do this without actually calculating each answer if you can.
70 x 40
70 x 57
70 x 21
70 x 100
How did you decide the order?
I would love to hear the reasons for your final order.
Now do exactly the same with the set of four division calculations below.
350 ÷ 7
350 ÷ 1
350 ÷ 25
350 ÷ 3
Create a set of four multiplications or four divisions yourself, which you think could be put in order from easiest to hardest.
Give them to someone else to order.
Do they agree with your final order? Why or why not?
Theme
Task one
Saved at the bottom of the page is a sheet where you need to look in more detail about statements about the Mayans. There is also a PowerPoint with some evidence about the Mayans. You need to use that evidence to prove the statements about the Mayans by filling in the table.
Task 2
I would like you to undertake some research into the Mayan gods and the Mayans relationships with the gods. You might like to find out what they had gods for and why. You might like to try drawing some of these god because the pictures are very interesting. There is also the area of human and animal sacrifice that you can find out about.
An extra activity is to try and draw your own Mayan god. What would you have a god of? What would it look like?
expect to find 1,200 years ago? I would like you to write a leaflet or guided tour of a Mayan city. I have saved a power point and another document at the bottom to help you.
HeartSmart
This is a game from a popular TV show called 'Read My Lips'. You will need 2 players.
Place some headphones playing music onto the first player and check if they can hear you - hopefully they can't!
Give the second player the HeartSmart word cards (saved at the bottom of the page) and see how many the first player can guess correctly in 60 seconds by reading their partner's lips. You could repeat this with your own list of words.
Was it hard to guess what was said?
Explain that listening to what others are saying requires lots of skills not just our ears.
What else do you need to be a good listener?
Nessy
If you do Nessy in school normally, you can continue doing this at home. The login word is 'softboon' and then you will need to type in your own name. https://learn.nessy.com/account/login#/accountLogin
Suggested Timetable of Subjects
Here is a suggested time table that you could use each day which reflects a similar timetable that we have in class. You can use it if you wish but it is not compulsory. I know that learning at home can be more intense than in the classroom setting, therefore there is a slight reduction to account for this.
| | | | | | | | |
| --- | --- | --- | --- | --- | --- | --- | --- |
| 9.00-9.30 | 9.30-10.30 | 10.30-11.00 | 11.00-11.15 | 11.15-12.15 | 12.12-1.15 | 1.15-1.30 | 1.30-2.30 |
| Reading | English/Writing | Break | Spellings | Maths | Lunch and Break | Handwriting | Theme and/or daily tasks |
Ongoing activities to be completed daily: Again please do what you can.
1. Reading your reading book from school for at least 10 minutes. If you have finished these, you can read a book from home and record it into your yellow reading journal.
2. Times Table Rockstars: Practise your set times tables (Should be in your homework book) for at least 10 minutes each day. If you are at home and need to be moved to the next level, please get in touch.
3. Mathletics is updated weekly as part of your homework. Go onto your account to check that you have completed your set activities.