Working From Home
Ash Class - I hope you are all staying safe and well. Here are some activities for you to have a go at at home. This will be updated weekly. If you have any queries, please contact the office, as these will then be passed onto me. I will also be uploading the homework on here weekly from now on, so please check back.
Please also keep updated on what you are doing! You can send pictures that I can add onto the blog, so that everyone in the class can share what you are doing. Instructions for how to do so are below (in the downloads). Everything gets sent to me for approval first, so this will be a good way to keep in touch. Please make sure you upload it to the 'Ash Class Blog' page, not on the main 'Ash' page.
Thank you,
Miss Welch.
---
UPDATED 03/04/2020
Happy Easter Ash class! I hope you've had a wonderful week. I've certainly had a good week seeing what you've all been up to! Thank you once again to those of you who have been uploading to the blog. If you haven't yet, the instructions on how to do so are linked below.
Next week, I am going to be in school, so I might see some of you there!
As this week would have been part of your Easter Break, we are not setting specific subject based activities. Instead, we have created an Easter Activities pack for you to look at over the next two weeks. To access that, you need to click on 'Our Learning' - 'Easter activities' - 'Willow and Ash Class.' Feel free to share anything you do on our blog.
Now the moment you've all been waiting for...
TIMES TABLES ROCKSTARS UPDATE!!!
At the time of writing, here are the scores:

And here are our top players: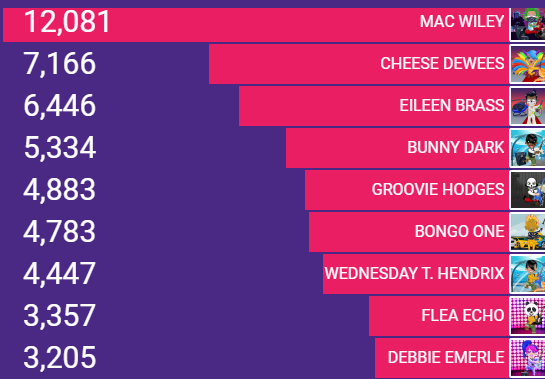 Well done to everyone who has taken part. You are doing incredibly! I'm really proud of you all :)
The tournament ends on the 16th of April, so keep practising! Let's see how many points we can get! Here's my challenge: Can we make it to 100,000? That's an insane amount of points, but I think you're up for the challenge!
Keep safe Year 4, and have a lovely Easter.
Miss Welch :)
---
UPDATED 27/03/2020
Hello Ash, I hope you've been enjoying your time at home and have been keeping safe. I have really enjoyed seeing what you've all been up to - thank you very much for taking the time to upload things onto our blog!
This week would have been our RE week, so this week I have included an RE activity as well as Maths, English, Spelling and Heartsmart. Please also have a go at the Egyptian day tasks, as they are great topic learning.
Lent
Our Lent theme this week is, 'Creatures of the Sea and the Sky.' I have included some weekly challenges you might want to do surrounding this theme.
Watch a nature documentary or research about life in our oceans.
Can you think of some ways you and your family can use less plastic?
Read about Jesus and the catching of the fish.
Designate some time to go birdwatching.
Feed the birds.
Decorate some real eggs for Easter.
Our prayer for the week:
Lord of sea and sky, we bless you for the wonders of creation. May the people of the world act together to ensure the oceans and the air are protected rather than polluted. Amen.
Maths
For Maths this week, I have downloaded a workpack for you to do. You should find it below. This week, it is on Time. I have uploaded 2 different packs, one for Mercury and Venus groups (named 'Maths MV'), and one for Earth, Mars and Jupiter (named 'Maths EMJ'). Please download the appropriate sheet.
The battle of the bands still continues! As of writing this, the score looks like this:

And from Ash Class, our top 5 players look like this:

Keep up the incredible work guys!
Lastly, fancy a challenge? Here is a Maths Investigation for you to try at home.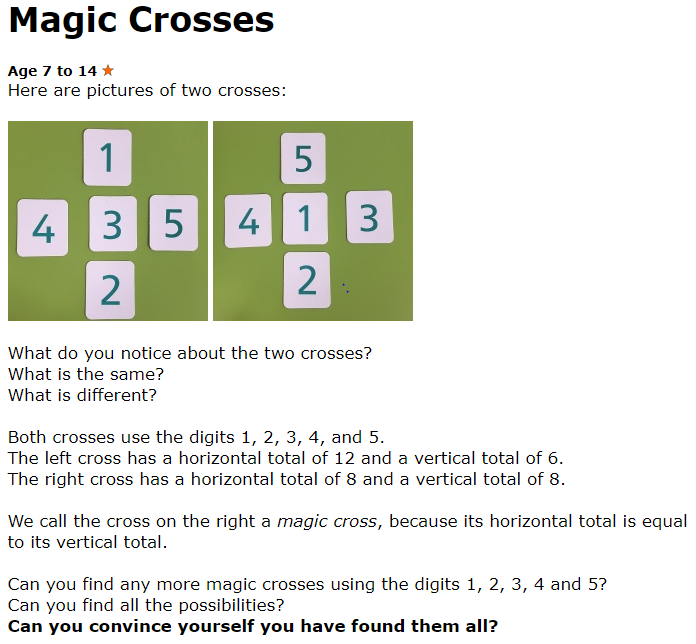 English
As last week I set you a lot of comprehension activities, this week's English is to finish those from last week. Just a reminder, I would like you to do the last sheet of each colour.
Also, please continue to read your reading book. If you have finished your book and have a Hampshire library card, you can download ebooks. Instructions of how to do so are downloaded below.
Spelling
This week, your spelling homework for my group is to have a go at learning some of the Year 3/4 statutory words. Try picking 7 words to learn.
Or, if you want to challenge yourself, why don't you have a blind spelling test? Get a parent to pick 10 words at random, and see how many you can spell correctly.
Those of you in Mrs South's spelling group, pick another 5 words from the list downloaded below to learn. Let's see how many you can spell correctly!
RE
Our RE topic is, 'The Cross as a Symbol' for Christians.
Have a think. What is a symbol? What symbols can you think of? What do they represent?
For example, a £ sign is a symbol. I know that it represents pounds.
How many symbols can you think of, and what do they represent?
Christians have lots of symbols associated with them too. Can you think of any symbols that remind you of Christianity? What do they represent?
Read the Easter Story. Are there any symbols in here that are important to Christians?
Create an information booklet all about symbols in Christianity, explaining what they are, and why they are important to Christians.
Heartsmart
This week, our topic is stress. Come up with a defintion. What is stress?
Did you know there are two types of stress? Eustress (positive stress) and distress (negative stress.)
Can you make a poster with ideas of when you might feel each type of stress?
For example, which type of stress would 'Going on a scary new themepark ride' be? What about 'not doing your homework'?
Once you have though about the differences and some ideas for both, have a think about how you could minimise the stress. What can you do to help you de-stress? In class, we use mindfulness to help our stress, but what else can you do?
---
UPDATED ON 26/03/2020
Good Morning Year 4! I came in today all dressed up for our Egyptian day, but no-one was here!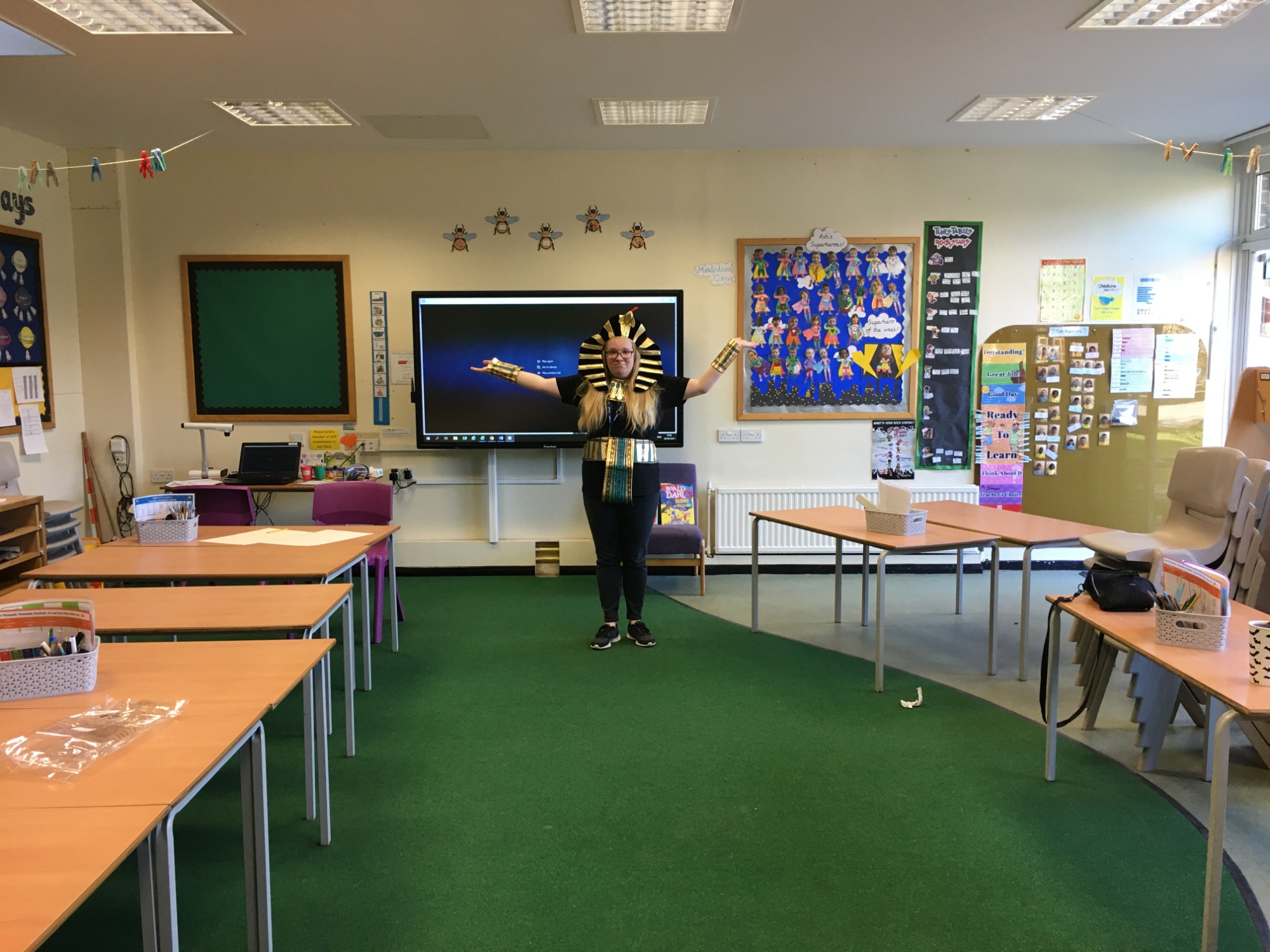 But that's okay, I thought we could instead have a..
VIRTUAL EGYPTIAN DAY!!!
That's right, today, I want you to dress up in your Egyptian costumes and then upload them to the class blog, so that everyone can see your amazing costumes!
All the staff at St Matthew's have put a very special video together for you to watch, please go and check it out, and comment if you enjoyed it! You can watch it here...
Update 27/03 - This video made it onto BBC south today! Thank you to everyone who watched, we're glad you enjoyed it!
But it doesn't stop there...
Here are some fun Egyptian Activities for you to try at home:
Practice your Egyptian Dancing - You can use this clip to help: https://www.youtube.com/watch?v=iacS9EnsepM
Play a game of the Egyptian Game, 'Sennet.' I have included a copy in the downloads below.
You could try some Egyptian cooking, by making the recipe from your homework!
You could write a story, but in Hieroglyphics!
And why not try, mummifying your teddy!
I can't wait to see what you get up to!
:)
---
UPDATED 16/03/2020
Maths
For maths, I have set you some activities to do on Mathletics. These are based around addition and subtraction, roman numerals and rounding. Your log should be stuck in the front of your blue books.
We have also started a TT Rockstars 'Battle of the Bands.' This is a competition that has everyone in the school competing. Don't worry, regardless of what times table you are on, you'll still be able to compete. You can earn points for your class by playing any game mode on TT Rockstars. The more you practice, the more points you will earn for your class! The competition will run until the end of the Easter holidays.
The battles are: Yr 2 vs Yr 3, Yr 3 vs Yr 4 and Yr 5 vs Yr 6.
Rock on!
English
1. Please find downloaded below, a selection of comprehension activities. I would like you to look at the last activity of each colour.
2. Please continue to read your reading book or another book daily if you can and record this in your yellow reading record. I have found that 'Hampshire Library Services' offer free ebooks and eAudiobooks which can be downloaded with a 'Hampshire Library Card'. I have downloaded a step by step guide which you will find at the bottom of this page to help you to download them. Please use this if you can as it is an excellent resource.
https://www.hants.gov.uk/librariesandarchives/library
Spelling
Below, I have attached our normal weekly spellings homework. Try to practice your spellings every day using pyramid words, look cover write check etc. and then you can have a test at the end of the week.
I have also attached a copy of all the words that the children should be able to spell by the end of the year. If you would like an extra challenge, see how many of these you can spell! For those in Mrs South's Spelling group, I have attached another list of words which you can have a go at!
Topic
Over the next week, we will be looking at the question, 'What did the Ancient Egyptian's believe about life after death?' This includes researching about the process of mummification, and understanding about, 'The Book of the Dead.'
We would like you to create a 'mummification for dummies' book/leaflet which contains a set of instructions about how to correctly mummify a body.
You can use this video as a great starting point:
https://www.bbc.co.uk/teach/class-clips-video/history-social-studies-ks2-mummification-in-ancient-egypt/zdcrkmn
And this website is a great example of some mummification instructions:
https://www.natgeokids.com/uk/discover/history/egypt/how-to-make-a-mummy/
---