Working From Home
Ash Class - I hope you are all staying safe and well. Here are some activities for you to have a go at at home. This will be updated weekly. I will keep two weeks worth of work downloaded on here at a time but will keep the all task overviews up for the term, in case you want to look back at a previous task you didn't get round to doing. If you want the workpack from a previous week which is no longer downloaded on here, please email the office.
Please also keep updated on what you are doing! You can send pictures that I can add onto the blog, so that everyone in the class can share what you are doing. Instructions for how to do so are below (in the downloads). Everything gets sent to me for approval first, so this will be a good way to keep in touch. Please make sure you upload it to the 'Ash Class Blog' page, not on the main 'Ash' page.
Ways to contact me:
Email the school office and put FAO: Miss Welch in the subject line - adminoffice@st-matthews.hants.sch.uk
Call the school - I won't be able to answer back straight away, but I'll ring you back as soon as I can!
Write a blog post - these come to me before they are published, so if you leave a message in the post, I won't publish it but I will be able to see the message. You could always leave a phone number or email address in the post which I can get back to you on. (I won't publish these)
Thank you,
Miss Welch.
---
IMPORTANT INFORMATION
Hello everyone - I will be uploading the last two weeks worth of work this week, as we are not going to have access to our laptops on certain days. As usual, I will attach our in school timetable for you to see, but it will be for two weeks worth.
On Monday 20th of July, we would like to invite you to a farewell picnic on the field at 9:30 - 10:15. This will be with the whole class, so it is up to you whether you feel comfortable. We will be social distancing and maintaining good hygiene, but it will be a lovely chance for us to say goodbye before you start in Year 5 in September. You will also be allowed to take your books home and any remaining project homework, so please bring a carrier bag. If parents can drop their children off at the playground gate, the children can walk around to the field. I will them walk them back to the gate for you to pick up at 10:15.
It's not the goodbye that we'd hoped to have this year, but it will be lovely to see you all regardless.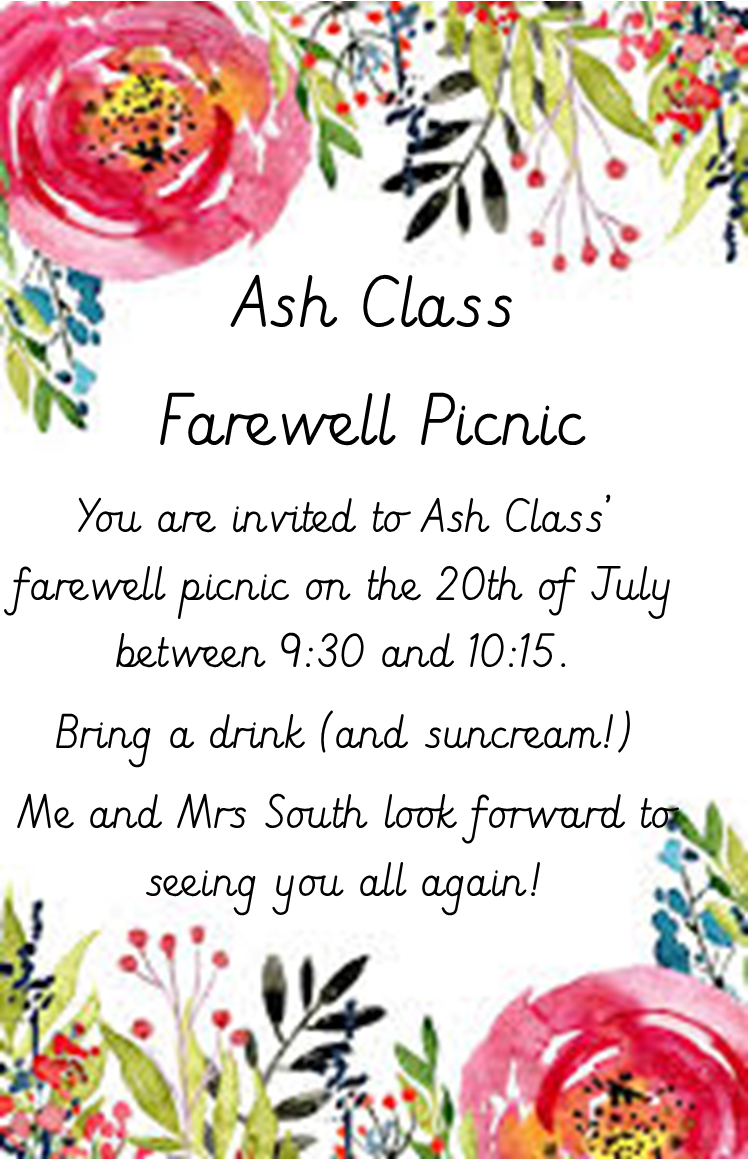 Thank you!
Miss Welch :)
Work set - Monday 13th June
Hello Ash,
Wow, this is the last week of home learning! I can't believe it's almost the end of the year!
I hope you all had a lovely time at your picnics with Miss Lee.
Don't forget, On Monday 20th we would like to invite you to our 'Farewell Picnic.' Please see the information above.
Here is this week's overview: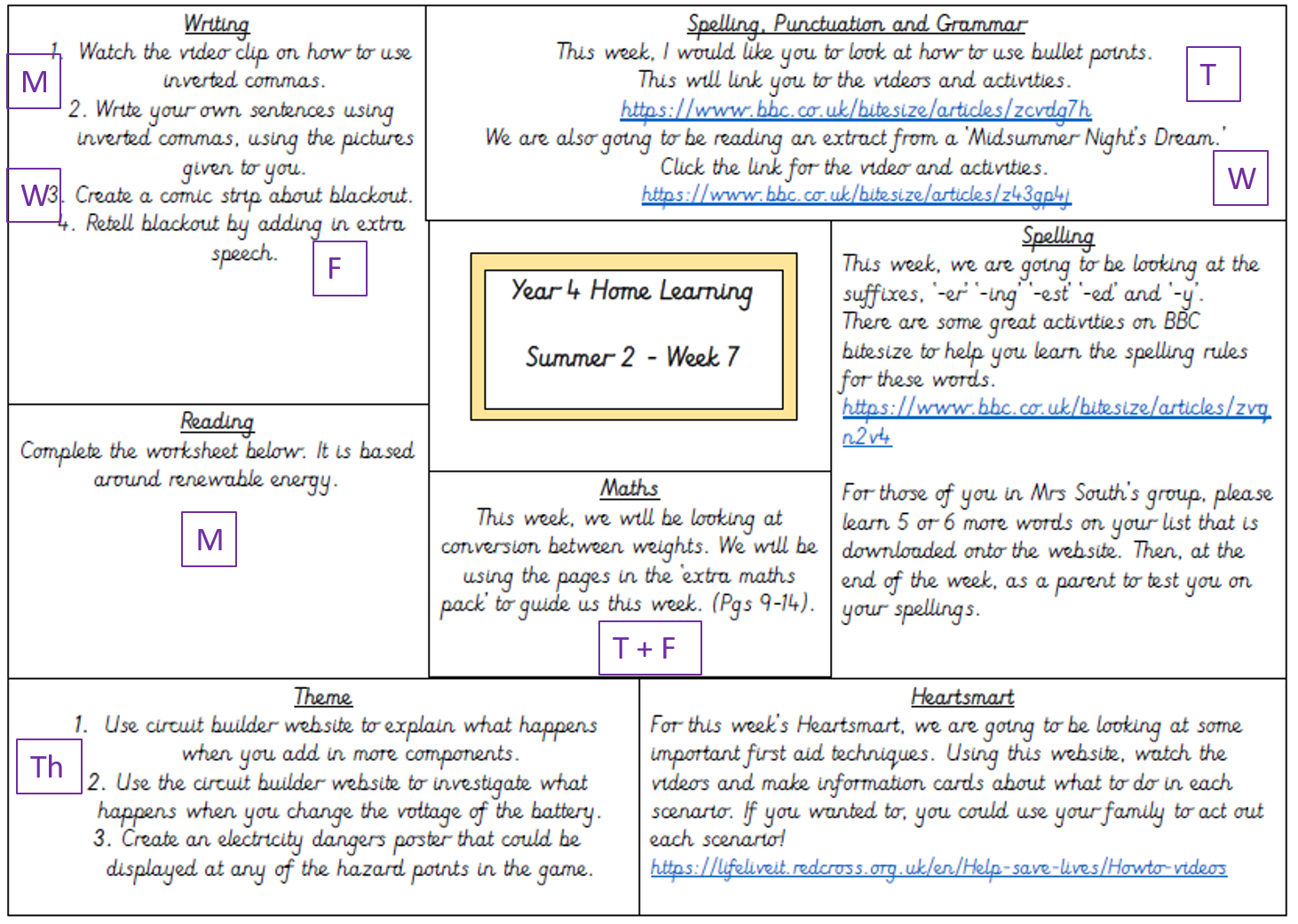 Have a lovely week,
Miss Welch :)
Work set - Monday 6th June
Hello Ash,
Don't forget you have your transition picnics with Miss Lee this week. The information for which is under the 'transition from year 4 to Year 5' page under the ' also in this section' area.
Here is a video that you will need for your work on circuits:
And here is one that you will need for your reading:
Here is our overview for this week: Apologies, this has changed since Friday as I noticed an error! On Wednesday, in school, we will be having a whole day of PE, so please bring your kits.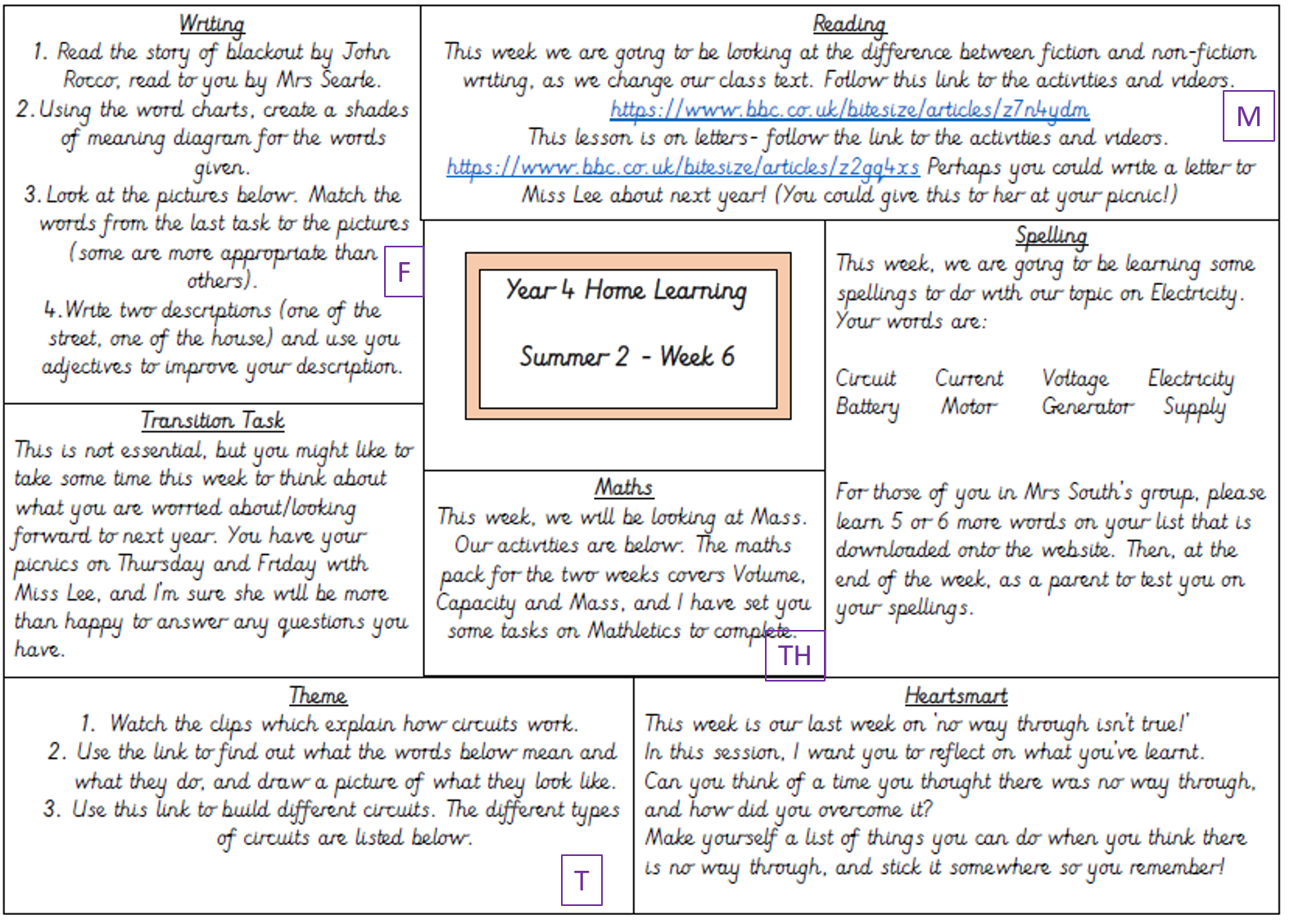 Have a brilliant week, and I hope you enjoy your transition days!
Miss Welch :)