WORKING FROM HOME
Willow Class Learning for week commencing 30.3.20
Hi Willow Class,
I hope that you are all well and that you have had a good week. I have been in school this week looking after some children and and am getting round slowly to updating the website. I have set up a class blog that I would love you to add to. The instructions about how to are attached below. Each Friday, I will delete the previous maths and English tasks as I place new ones on. But, I will keep theme tasks as extra activities that you could do if you hadn't completed them. I will also update the English and maths activities. Please do not feel overwhelmed by the amount. Just do what you can. Please find some new learning ideas for next week. Keep in touch.
Mrs Searle
Lent
Our Lent theme this week is, 'Creatures of the Sea and the Sky.' I have included some weekly challenges you might want to do surrounding this theme.
Watch a nature documentary or research about life in our oceans.
Can you think of some ways you and your family can use less plastic?
Read about Jesus and the catching of the fish.
Designate some time to go birdwatching.
Feed the birds.
Decorate some real eggs for Easter.
Our prayer for the week:
Lord of sea and sky, we bless you for the wonders of creation. May the people of the world act together to ensure the oceans and the air are protected rather than polluted. Amen.
Maths
I have just been onto the 'Mathletics' website and have see that many of you have completed the tasks. Well done. This week I have reassigned the time tasks so that you can practise them again at your level. I have also place a problem solving task linked to addition and subtraction. See if you are up for the challenge? I have now placed a link to 'Mathletics' at the side of our page so that you can access it easier. Your log in is the front of your blue.
Time Tasks Assigned:
5 minute times
Quarter past and quarter to
Tell the time to half an hour
What is the time?
24 hour time
Test
Challenge
A time task that we would have moved onto this week would also be to use timers to record times so I have given you a challenge.
Use a stopwatch to record the following events:
a) Time taken to to 30 star jumps
b) Time taken to throw and catch a ball 20 times
c) Time taken to read 5 pages of your reading book
d) Time taken to listen to a full song
e) To do 10 press ups
You could record your times in a table. If you can think of any other fun activities to time, you could also time those. Let us know on our class blog how you got on.
Problem Solving Task
Times Tables Rockstars
Please continue to practise your times tables of 'Times Tables https://ttrockstars.com/
Your log in will be in the front cover of your home partnership book.
Battle Update: We are currently beating Apple Class however, Ash Class are beating us by a long way! Carry on battling Willow Class!
English
Reading
1. Please continue to read your reading book or another book daily if you can and record this in your yellow reading record. I have found that 'Hampshire Library Services' offer free ebooks and eAudiobooks which can be downloaded with a 'Hampshire Library Card'. I have downloaded a step by step guide which you will find at the bottom of this page to help you to download them. Please use this if you can as it is an excellent resource.
https://www.hants.gov.uk/librariesandarchives/library
Also teachers are beginning to read stories which are being filmed and placed on the school website. Look out for these! Its good to listen to stories!
2. Complete some more reading comprehensions from the Reading Realm Pack (attached below). You do not have to print them off but could read them on screen and answer the questions in your homework book. They progress in difficulty from activity 1 to activity 4 (4 being the hardest). The children should be completing comprehension 3 for each fairy tale. If they would like a challenge, they could also try activity 4.
Writing
This week and last week, we would have revisited news reports, focussing on the discovery of Tutankhamun's Tomb. Create and write your own news report about this discovery or you could write one about an amazing discovery of your own. I have included a link what explains the key features that could be included in your news report. You could also break this task up across the week and write a new paragraph each day, building it up. Again I would love to see your creations on our blog.
https://www.bbc.co.uk/bitesize/topics/z2yycdm/articles/z2gk9qt
Spellings:
Use the link below to access an online game to practise your use of prefixes. Also continue to practise your common exception words using the attached lists below. You could choose 6 words each week to really focus on and practise these, then change them for the week after.
http://flash.topmarks.co.uk/4762
Theme
This week would have been RE week and we would have been exploring the key question:
Why do Christians call the day that Jesus died Good Friday?
Here are some activities that you can do to help you to answer the question.
Read/watch a version of the Easter story to remind your self of the key events.
Create a cross and write down all of the reasons why Jesus died for us on it.
Create a poem about Good Friday and the meaning behind it.
Recreate Calvary Hill. This could be done as a model, piece of artwork or another creative way.
Go on a 'Good Friday' Nature Hunt. What can you find in your garden to represent or symbolise what happened on Good Friday?
Heartsmart - Don't Rub It In, Rub It Out
Give your child a worksheet each with a short profile of a fictional person (see attachments below - Heart Smart Task 1). Ask the children to draw a picture in the box of what they think that person might look like.
Ask your child. do they think they have made stereotypical assumptions based on the information they were given?
Show them the slides (attached below - Heart Smart Task 2) the slides that match photos of the children to the profiles they were given. Discuss any surprises or comments that arise.
Key Ideas: Explain that when we make assumptions about what a person should be like, it is like we are putting them in a box. We sometimes do this without even realising e.g. when a girl is born some people only buy pink clothes.No one wants to live in a box! We are all different and we all have different interests and talents. Being HeartSmart means not putting people in boxes and involves taking the time to get to know them, find out what they like, celebrate the things that unite us and also the things that are different.
UPDATED ON 26/03/2020
Good Evening Year 3! Miss Welch came in today all dressed up for our Egyptian day, but no-one was there!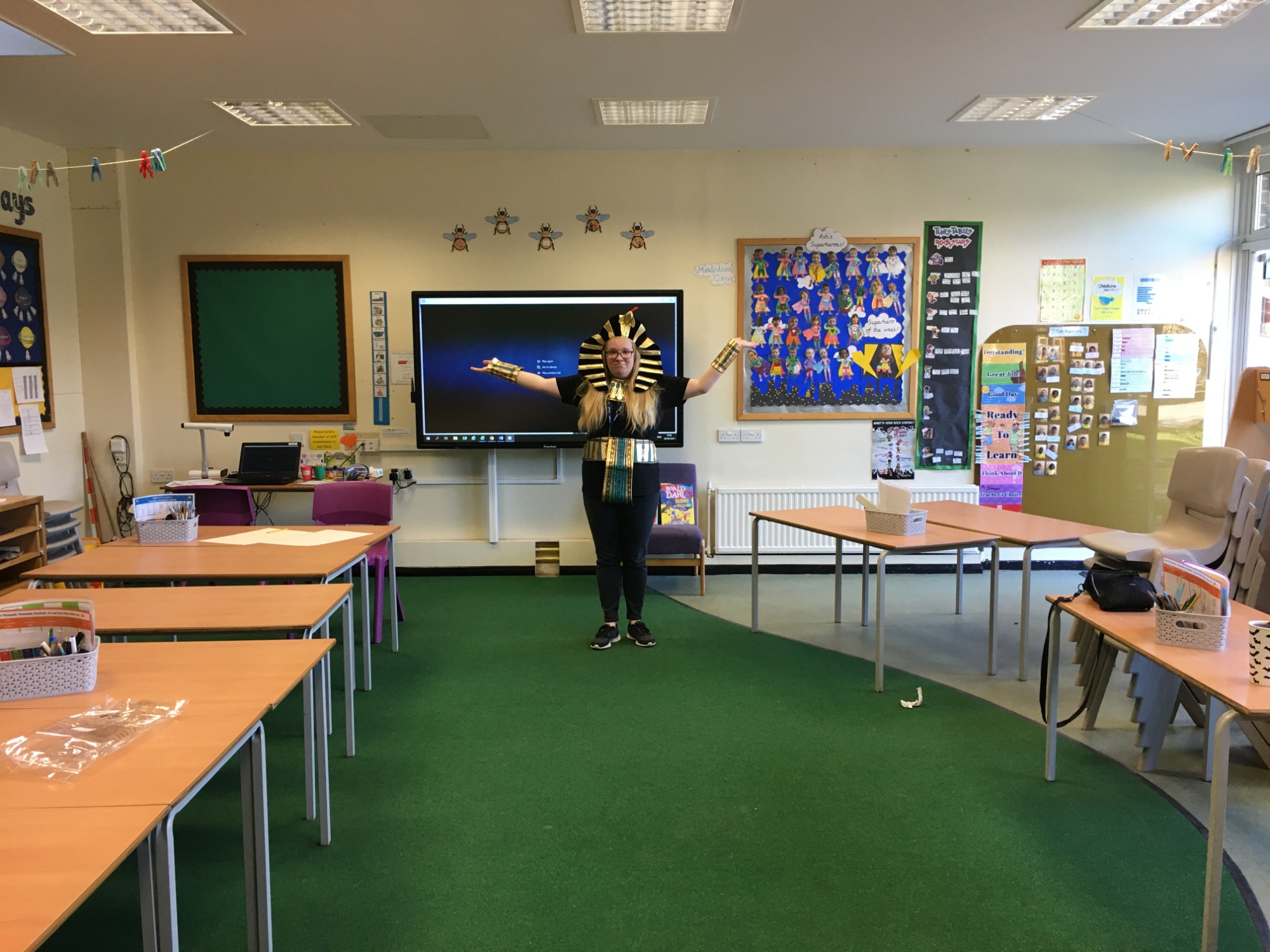 We were sad that we couldn't enjoy our planned Egyptian Day so thought that you could have your own Egyptian Day at home.
VIRTUAL EGYPTIAN DAY!!!
Tomorrow, you could dress up in your Egyptian costumes and then upload your pictures to the class blog (see the word document attached below for details about how to use the blog), so that everyone can see your amazing efforts!
All the staff at St Matthew's have put a very special video together for you to watch, please go and check it out, and comment if you enjoyed it! Maybe you could even try the dance yourself! You can watch it here...
https://www.youtube.com/watch?time_continue=3&v=28HyXbYSuRY&feature=emb_logo
But it doesn't stop there...
Here are some fun Egyptian Activities for you to try at home:
Practice your Egyptian Dancing - You can use this clip to help: https://www.youtube.com/watch?v=iacS9EnsepM
Play a game of the Egyptian Game, 'Sennet.' I have included a copy in the downloads below.
You could try some Egyptian cooking, by making the recipe from your homework!
You could write a story, but in Hieroglyphics!
And why not try, mummifying your teddy!
I can't wait to see what you get up to!
Previous Theme Tasks:
WC 23.3.20
Over the next week, we will be exploring 'What do ancient Egyptians believe about life after death?
This includes understanding the process of mummification. Use the following clip to learn about it. Carry out some research to find out what the process of mummification was. Then write a small book 'Mummification for Dummies', explaining the process in as much detail as you can. You could use pictures to help you.
https://www.bbc.co.uk/teach/class-clips-video/history-social-studies-ks2-mummification-in-ancient-egypt/zdcrkmn
https://www.natgeokids.com/uk/discover/history/egypt/how-to-make-a-mummy/ (This has some great pictures and are an example of instructions. please write yours in your own words though.)