Shrove Tuesday at St. Matthew's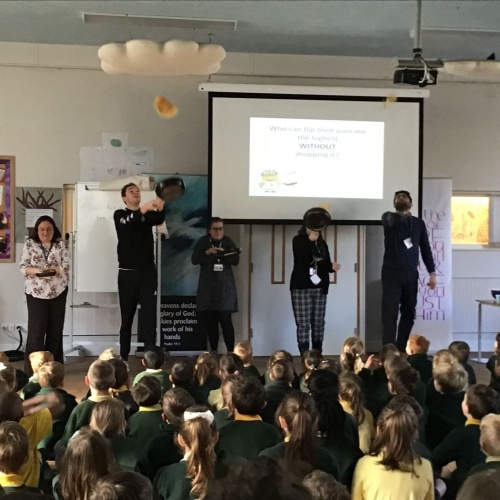 The children and staff have been getting ready for Lent in a very exciting way this morning.
This morning we had a very exciting worship all about Shrove Tuesday which is also known as Pancake Day.
We learnt some interesting things about the beginning of Lent. We learnt that we get ready for Lent by using up all the luxuries in our food cupboard. It used to be eggs, milk and flour, but nowadays it is more likely to be ice cream and chocolate sauce! Once we have used up all of the luxuries we spend the 40 days of Lent giving up some luxuries so we can focus on the events of Easter and of Jesus giving up His life on the cross. We also looked at some ways different countries celebrate Shrove Tuesday.
Then there was a pancake flipping competition between some of the teachers. It was really fun and some of the pancakes went really high. But thankfully none of them got stuck on the ceiling or a cloud!
Check out the school gallery to see some of the pictures.
There will be more news later of the hotly contested Year 6 Pancake Race!