Fernhurst Football Tournament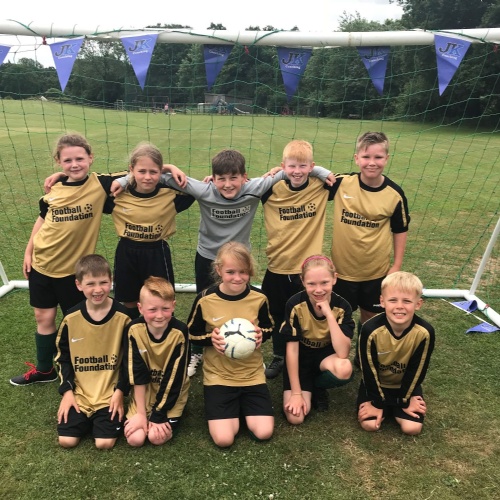 Tuesday 19th June 2018
10 children from Year 3 and 4 we selected to play in a local tournament at Fernhurst Recreational Ground. This tournament was run by JK Coaching.
Game 1 - St Matthew's 8 - 0 Easebourne B
In the opening game we got off to a flying start, with goals from a few of the team members. We managed to score 8 goals over the 15 minutes to start the tournament off with a great start.
Game 2 - St Matthew's 2 - 5 Easebourne A
St Matthew's started the game slow with Easebourne scoring 2 goals very early on. The team battled hard to recover goals, but not enough for Easebourne's centre forward who finished off the remaining three goals.
Game 3 - St Matthew's 2 - 2 Camelsdale
The final game of the group stages to see who would be placed 2nd and go through to the final with Easebourne A. Camelsdale had won 2 - 0 against Easebourne B, so were trailing on goals difference compared to St Matthew's. The game started slow, with a tight battle with no goals. Into the second half, Camelsdale were first to get the goals, by scoring two in quick succession, but with St Matthew's replying swiftly afterwards. Camelsdale were beginning to get tired as Garry struck a shot from 10 yards, flying past the goalkeeper. St Matthew's went through to the final on goal difference.
Final - St Matthew's 1 - 0 Easebourne A
The game was a stalemate for most of the game and began to get tense into the last 2 minutes of the game. A bombing run down the left wing, Ryan cut back to pass to Charlie. Charlie took one touch, look at goal and shot into the top corner. With a tense final few minutes we waited patiently for the game to finish. The children were ecstatic with their win and hoping for more tournaments in the future.
If you would like to see some pictures from the tournament, please find them in the Gallery.
Looking forward to future tournaments in the Autumn term. Come and support the children for some future silverware.