Working From Home (Week 9) 18.05.2020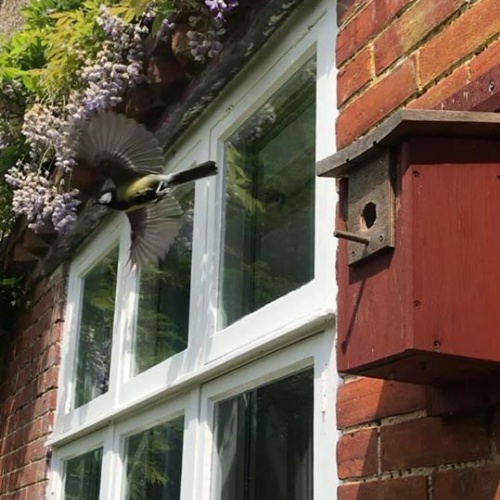 Working From Home (Week 8)
I will continue to update this blog each week with work you can do and things to keep you busy. I hope that you have all had a lovely weekend and are ready for the week ahead. If you have any questions or photos for the blog you can email me at misssoal@yahoo.com
IF YOU WOULD LIKE ME TO GIVE YOU A CALL ON THE TELEPHONE, PLEASE EMAIL ME AT misssoal@yahoo.com WITH A DAY AND TIME WHICH WILL WORK BEST FOR YOU!
This week we are finishing our Topic of COMOTION IN THE OCEAN. Lots of you have completed your Underwater Sea Creature Project - Well Done!
News

-We have a Oak Class Youtube Channel. It features daily videos of the Oak Class animals, puppets, messages from Mrs PH and Stories! Find our channel here: https://www.youtube.com/channel/UCg9ajMOID2ZApLI8ae2A8zg

-If you would like to send Miss Soal anything for the blog or ask any questions you can email this address:

misssoal@yahoo.com
Thank you to everyone who wrote beautiful prayers for the key workers. You can see them all in this video:
RE
-An Alien has landed on Earth. He looked in Miss Soal's diary and noticed that on the 31st May she had written the word PENTECOST. The Alien wonders...
''What is Pentecost? What is it all about? Who celebrates it and why?"
Can you help the alien? You could talk to an adult, research in books and the bible, and safely use the Internet to work out what Pentecost is. Present your findings in an Alien friendly way, such as: a poster, information leaflet, story board, post card, artwork or video.
English
- I have heard and seen lots of your fabulous Commotion in the Ocean themed poetry:
I think that Giles Andreae, the author, would be very impressed with your writing. Now that you have written your poem, have a go at writing a letter to the author to ask if they would like to feature it in their book. You will need to consider all the elements of letter writing which are required to produce a well written letter. These include:
Your Address: the writer's address in the top right hand side of the letter.

The date: immediately after the writer's address at the top right hand side of the letter.

Salutation/Greetings: Dear Giles Andreae, it must be marked off by a comma.

Body: beginning, middle and end.

Subscription/ Complementary close: "Kind Regards", followed by your signature before your full name.
Phonics
- Play SENTENCE SUBSTITUTION on Phonics Play:
In Oak Class this week we would have been exploring how to form a well structured sentence, considering word order and vocabulary choice. Pick a sentence on the game and shuffle it about to make it even more interesting.
If you would like to try any of the other games you can use this log in and password:
Username: march20
Password: home
-Add some more 'High Five' hands to your tricky word wall. Have you got these Tricky Words: oh, their, people, Mr, Mrs, looked, called, asked, could?
-Create a mind map of words to do with under the sea and think of words that can rhyme with them.
-Watch Finding Nemo or Finding Dory with someone older than you. Every time you hear a word that you do not know or understand, ask them to write it down. After the film has finished:
Use a dictionary to find out what the words mean

Look, Write, Cover, Write the words

Are their any digraphs, trigraphs or split digraphs in the words you have written?
- Sound Hide and Seek
Find some sticky notes (or paper with bluetack)

On the sticky notes carefully write these sounds: ai, ee, igh, oa, oo, ar, or, ur, ow, oi, ear, air, ure, er or these Tricky Words: oh, their, people, Mr, Mrs, looked, called, asked, could

Ask someone in your family to hide the post-it notes all over the house (especially on things you'll need during the day i.e. toothbrush, toilet roll, milk)

Every time you find a sticky note throughout the day say the sound or the word. If you get it right, you can keep it and get a point. If you get it wrong the person who hid it gets a point and can re-hide the note.

WHO WILL WIN??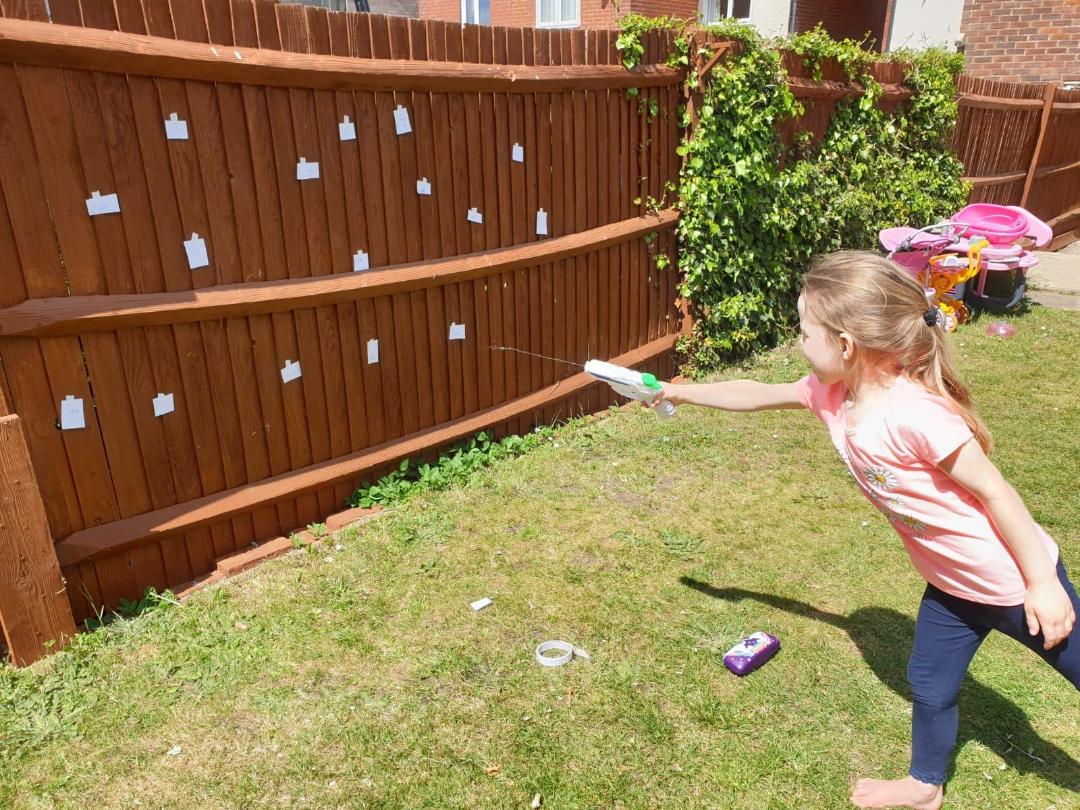 PLEASE checkout the other writing ideas and activities at the bottom of this blog page.
Mathematics
-"You now work in an aquarium and you are hoping to feature a new UNDERWATER sea creature in your new tank. Mrs PH, who owns the aquarium, has asked you to work out which UNDERWATER sea creature would make the most people happy! She has asked you to conduct a survey to see which UNDERWATER sea creature is liked by the most amount of people. The UNDERWATER sea creature list includes: Giant Jellyfish, Blue Dragon, Axolotl, Glowing Octopus, Manatee and a Cat Eyed Cardinal Fish. What do your findings tell you?"
How are you going to record your survey? Are you going to use a table? A tally chart?
Who are you going to ask? Your Mummy, Daddy, Brother, Sister? How else could you collect information? By phoning grandparents? Sending a survey in the post?
How will you keep it fair? Does everyone have to pick one animal? Could they pick their top three animals: 1st Choice: 3 points, 2nd Choice: 2 points, 3rd Choice: 1point?
How will you present your information to Mrs PH? Can you make a results table?
-Watch Lennon's video and have a go yourself:
-Please also complete the work set on Matheletics!
Science
-Look at the habitat of a Sea Turtle, a Dolphin and a Whale. Contrast them with the habitat of a Natterjack Toad, a Heron and a Hedgehog. Which similarities and differences can you spot? Could compare the habitats using a Venn Diagram?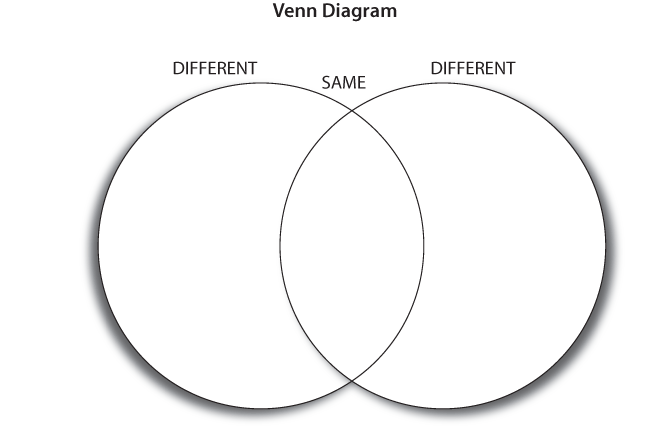 -Have a go at making a balloon rocket! Perhaps you could adapt it to be a 'Balloon Submarine'?
Design and Technology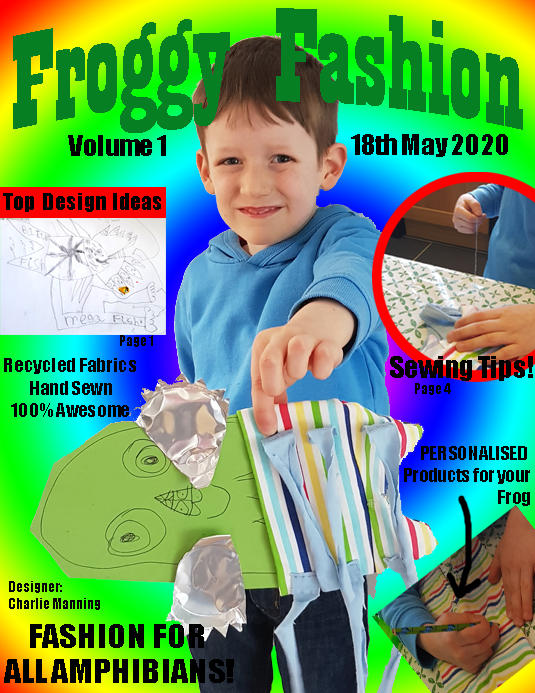 - Can you design an outfit for a fish, frog, axolotl or a tadpole? Remember that it needs to be waterproof! What materials would you use? How would you assemble it?
Have a go at drawing and labelling the outfit

Source the materials from your recycle bin or old clothes

Assemble your outfit

Send a photograph of your design and outfit to misssoal@yahoo.com for this weeks FROGGY FASHION MAGAZINE (by Friday please)
- FLIP THE SWITCH - Make a Underwater Creature dressing-up outfit for yourself!
History
Research and write about the New Zealand Grayling. They have gone extinct - do you remember what that means? Can you find 5 coll facts about this fish?
PE
- Can you follow this PE lesson?
A few additional writing activities which you could do at home:
1. Writing on the floor and walls outside with chalk (write over them a second time with water on a brush and they will disappear!)
2. Using a squeezy water bottle/paint brushes, writing on the floor outside with water
3. Rainbow Writing - writing every word or letter in a different colour
4. Writing letters for... the class pets, fairies, pixies, dinosaurs (to go in the Tardis), buddies in year 4. (If you wanted to write a letter to me or the other teachers at St. Matthew's, I will happily write and post one back to you)
5. Writing in sand or loose dirt with a stick
6. Writing secret messages (with your finger) on your friends back, hand, arm, foot. Can you work out what they wrote?
7. Setting up a tuck shop, writing lists, labels, receipts, recipes (also great for learning about money)
8. Draw the outline of an animal and write inside the shape about it
9a. Writing words on Post It notes and organizing them into sentences
9b. You could also write words on building blocks or lego bricks and connect them together to make a sentence
10. Set-up a hidden writing den in your house, where you can hide away and write in your own 'personal diary'
11. Speech Bubbles - stick googly eyes on things around the house (chair, cucumber, spoon) and write a funny speech bubble on what it could say. "Do you like my spiky hair Mr Fork"
12. Writing words on strips of paper and making a sentence paper chain