Working From Home (Week 7) 04.05.2020
Working From Home (Week 7)
I will continue to update this blog each week with work you can do and things to keep you busy. I hope that you have all had a lovely weekend and are ready for the interesting week ahead. If you have any questions or photos for the blog you can email me at misssoal@yahoo.com
IF YOU WOULD LIKE ME TO GIVE YOU A CALL ON THE TELEPHONE, PLEASE EMAIL ME AT misssoal@yahoo.com WITH A DAY AND TIME WHICH WILL WORK BEST FOR YOU!
This week we are continuing our new Topic of COMOTION IN THE OCEAN. Lots of you have already completed your Underwater Sea Creature Project and I am so fascinated by the animals which you have found.
Please listen to this special message:
News

-We have a Oak Class Youtube Channel. It features daily videos of the Oak Class animals, puppets, messages from Mrs PH and Stories! Find our channel here: https://www.youtube.com/channel/UCg9ajMOID2ZApLI8ae2A8zg

-If you would like to send Miss Soal anything for the blog or ask any questions you can email this address:

misssoal@yahoo.com
RE
-Write a prayer showing that you are thankful for keyworkers. There are lots of teachers who have to be in school everyday. Write them a prayer and film yourself reading it. Send the prayer video to my email address (misssoal@yahoo.com) and I will make a special thankful Thursday video for the other teachers at St. Matthew's. If the video is too long I recommend using WeTransfer to send it.
English
- Watch this video:
- Write your 'excuse' story as to why you are not in school. Who did you meet on your way to school? Why did it make you late? Did something disastrous happen? How did you get out of that sticky situation?
Phonics
- Play DRAGONS DEN on Phonics Play:
If you would like to try any of the other games you can use this log in and password:
Username: march20
Password: home
-Add some more 'High Five' hands to your tricky word wall.
- Sound WATER BALLON FIGHT
1. Buy some water ballons
2. On the water ballons carefully write these sounds: ai, ee, igh, oa, oo, ar, or, ur, ow, oi, ear, air, ure, er
or these Tricky Words: oh, their, people, Mr, Mrs, looked, called, asked, could
3. Pick up a ballon, if you can say the word or sound correct you can throw it at someone else (make sure they agree to play first!)
4. BUT if you get it wrong you have to drop it on your own head, while saying the word or sound.
Checkout the other writing ideas and activities at the bottom of this blog page.
Mathematics
-"Tiddler the Story Telling fish wants to write a book. He wants to write five lines on every page. His book is 13 pages long. How many lines does he need to write all together?"
What multiple do you need to count up in? How could you write this as a simpler number sentence (5x13=)? What would the answer be if it was 14 pages? Could you use your knowledge of multiples of 10 to work it out even quicker?
-Please also complete the work set on Matheletics!
Art
Make an underwater creature using leaves an sticks which you can find outside. You could leave it outside for the birds to enjoy or glue them to a piece of paper and bring it inside.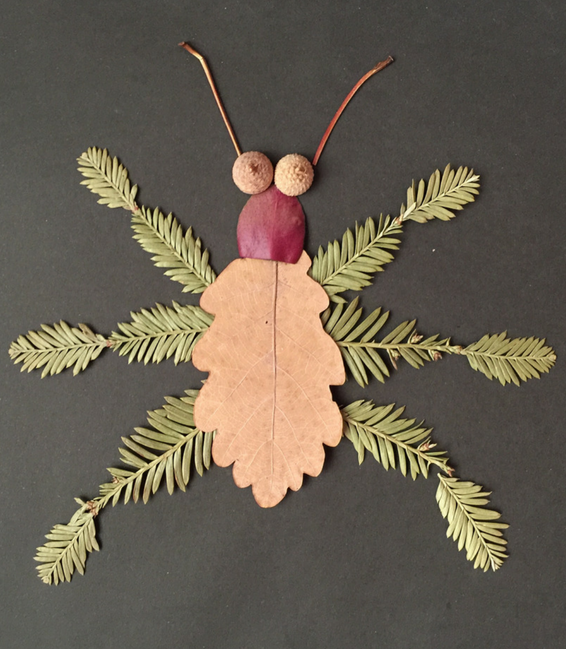 Design and Technology
- Design a submarine and make it out of junk modelling. A submarine will help you to explore under the water and meet other creatures. Maybe you will see a Cat Eyed Cardinal Fish!
PE
- Can you follow this dance routine?
A few additional writing activities which you could do at home:
1. Writing on the floor and walls outside with chalk (write over them a second time with water on a brush and they will disappear!)
2. Using a squeezy water bottle/paint brushes, writing on the floor outside with water
3. Rainbow Writing - writing every word or letter in a different colour
4. Writing letters for... the class pets, fairies, pixies, dinosaurs (to go in the Tardis), buddies in year 4. (If you wanted to write a letter to me or the other teachers at St. Matthew's, I will happily write and post one back to you)
5. Writing in sand or loose dirt with a stick
6. Writing secret messages (with your finger) on your friends back, hand, arm, foot. Can you work out what they wrote?
7. Setting up a tuck shop, writing lists, labels, receipts, recipes (also great for learning about money)
8. Draw the outline of an animal and write inside the shape about it
9a. Writing words on Post It notes and organizing them into sentences
9b. You could also write words on building blocks or lego bricks and connect them together to make a sentence
10. Set-up a hidden writing den in your house, where you can hide away and write in your own 'personal diary'
11. Speech Bubbles - stick googly eyes on things around the house (chair, cucumber, spoon) and write a funny speech bubble on what it could say. "Do you like my spiky hair Mr Fork"
12. Writing words on strips of paper and making a sentence paper chain