How To Grow A Dinosaur!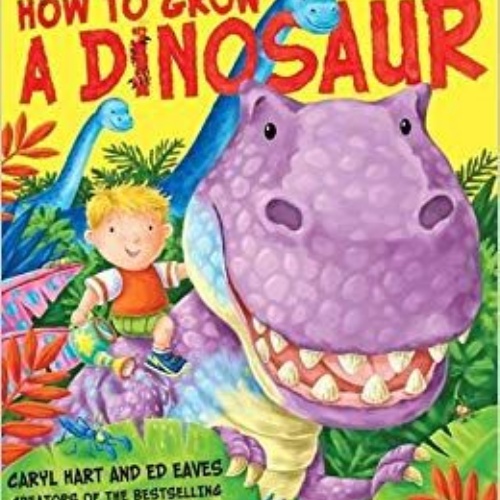 How To Grow A Dinosaur (Week 22)
YOUR WEEKEND CHALLENGE: To make sure that you have lots of layers ready for Forest School on Thursday. Thick socks, thermals, snow boots and waterproofs are recommended. Many of the children struggled this week because they were too cold.
Get your World Book Day outfit ready for Thursday AFTERNOON.
Changes to Oak Class:

The children are doing Forest School this half term. Please make sure that you send the children to school in suitable clothes. The children will be outside from 9:00-12:00 and therefore need to be wrapped up warm and snug!
During our twenty-second week in Oak class we started our Topic of 'Discovering Dinosaurs'. What have we been up to?
English – We have been writing instructions for a dinosaur-based board game which we designed in Mathematics. The book 'How to Grow A Dinosaur' inspired our work this week.
At home you could … write a set of instructions as to how YOU would grow a dinosaur.
You could also ... find a postcard while you are out and write about your weekend.
Mathematics – We have been thinking about Board Games this week to try and improve our subitising skills. We have played different games, learning the rules and taking turns. On Friday we began designing our own board games.
At home you could ... play a board game with another family member. Remember that you must take it in turns, be fair and remember that you can not always win. What is your favourite board game?
Phonics – We have split in half for Phonics.
Iguanas and Chameleons: Recapping the sounds AR OR ER and AIR – with Mrs Lund.
Bearded Dragons and Geckos: Recapping the sound IGH and spotting it within words - with Miss Lund.
At home you could ... write some Buried Treasure words to play with your family. Which digraphs have you used? Could you use a split diagraph?
Science – We have got some frogspawn in our classroom and have been keeping an eye on their development.
At home you could ... feed the birds! We are looking after our world this LENT and as a school we are caring for animals and nature this week.
History – We have been learning about Mary Anning and her discovery of FOSSILS and DINOSAURS. The children have been asking questions which allow them to think more deeply about what the world was like when Dinosaurs roamed the land.
PE – We are doing PE on Monday afternoons. We are focusing on Multiskills during Spring 1.
Other – The children were featured this week in the Bordon Herald and on the ARC website. Please see the previous blog post for links.
I hope you had a lovely half term.
IF YOU DO ANY OF THESE ACTIVITIES AT HOME, PLEASE LET MISS SOAL KNOW SO THAT WE CAN SHARE IT WITH THE CLASS
Between our lessons we like to keep active, dance and sing. Here are a few of our favourite songs and videos from this week:
We have been practising getting changed before the 5-minute timer ends. We love getting changed with this timer playing in the background. Maybe you could practise at home? https://www.youtube.com/watch?v=xTczn5RUgnk