On the Sixth Day, God made Toads!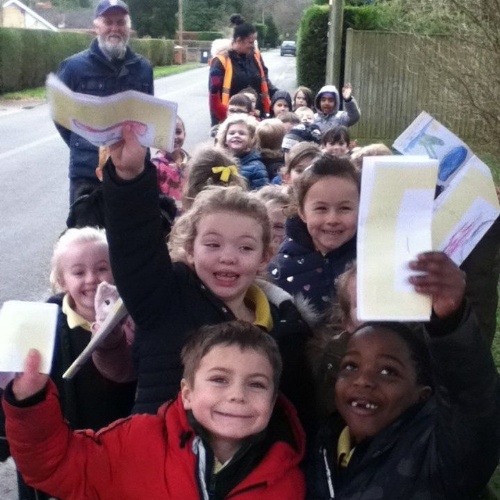 On the Sixth Day, God made Toads (Week 20)
YOUR WEEKEND CHALLENGE: To find a nice, smooth rock or stone for us to paint on at school. These will be placed around our new pond.
If you would like to make a model or sculpture of a toad or frog at home – we would love to exhibit it at our Natterjack Toad Extravaganza.
Begin saving a few pennies! We are having a Natterjack Toad Extravaganza to raise money for the ARC Trust. This will be held on 14th February 2020 at 1:45-2:45!! Everyone is Welcome 😊
Changes to Oak Class:

Spellings will be sent out of Fridays, practised every day in class and then informally tested on Friday mornings. The spellings may seem short and simple, but they are spellings which are commonly not spelt correctly during independent writing.

Challenge Spelling: endangered
During our twentieth week in Oak class we took a short break from our Topic of 'Toads in Trouble'. What have we been up to?
This week we have been learning all about the Creation Story in RE.
The children have also completed their sponsored HOP - please see photos in the OAK CLASS Gallery!
English – We posted our finished leaflets on Tuesday! Please have a look at the photos of us posting them and playing at the park. We completed this online ROAD SAFETY game: https://www.think.gov.uk/resource/take-the-lead-game/
At home you could ... find a postcard while you are out and write about your weekend.
RE – We have been learning all about the Christian Creation Story.
The children have acted out the story daily – can you remember the order which Christians believe God created the world in? On what day do Christians believe God created toads?
We thought about how we could look after our world by completing a class litter pick and we learnt this creation song: https://www.youtube.com/watch?v=aoehyq6X650
PE – We are doing PE on Monday afternoons. We are focusing on Multiskills during Spring 1.
Other – We practise handwriting daily in Oak Class. The children have requested this handwriting program to be posted on the blog: https://www.ictgames.com/mobilePage/writingRepeater/index.html
IF YOU DO ANY OF THESE ACTIVITIES AT HOME, PLEASE LET MISS SOAL KNOW SO THAT WE CAN SHARE IT WITH THE CLASS
Between our lessons we like to keep active, dance and sing. Here are a few of our favourite songs and videos from this week:
We have been practising getting changed before the 5-minute timer ends. We love getting changed with this timer playing in the background. Maybe you could practise at home? https://www.youtube.com/watch?v=xTczn