The Natterjack Toad has a wiggly yellow line down his Bumpy Brown Back!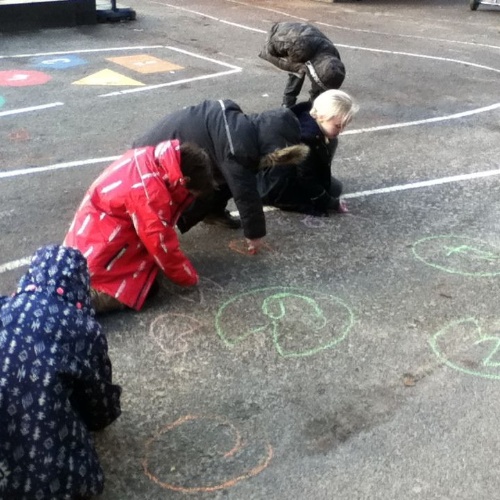 The Natterjack Toad has a wiggly yellow line down his Bumpy Brown Back (Week 18)
YOUR WEEKEND CHALLENGE: To practise your sponsored HOP! Have you got any sponsors?
Begin saving a few pennies! We are having a Natterjack Toad Extravaganza to raise money for the ARC Trust. This will be held on 14th February 2020 at 1:45-2:45!!
IF YOU WOULD LIKE TO DONATE CLICK HERE: https://www.arc-trust.org/fundraisers/st-matthews-ce-school-toads-in-trouble
Changes to Oak Class:

Spellings will be sent out of Fridays, practised everyday in class and then informally tested on Friday mornings. The spellings may seem short and simple, but they are spellings which are commonly not spelt right during independent writing. Spellings this week are:

Saw, was, school, once, so

Challenge Spelling: reptile
During our eighteenth week in Oak class we continued our Topic of 'Toads in Trouble'. What have we been up to?
This week we have been reflecting on our trip from the ARC TRUST.
English – We have been writing our adjective filled FACTS this week. After our visit from the ARC Trust we had lots of information and facts to process. We wrote, edited and wrote up the first section of our factual leaflets.
At home you could … write an interesting fact about a different animal – ensuring that it includes an adjective. It could be a fact about your favourite animal, a pet at home or one of our class pets.
You could also ... find a postcard while you are out and write about your weekend.
We have also been focusing on rhyming this week. We have been writing some Rhyming Raps for Year 6. Can you write a Rhyming Rap at home?
Mathematics – We have been counting in 2's this week. We noticed that there was a pattern... starting at 2, you then miss every other number.
Phonics – We have split in half for Phonics.
Iguanas and Chameleons: Focusing on the split diagraph i_e. We have identified the different ways of writing the sound ie – with Miss Soal.
Bearded Dragons and Geckos: Recapping the sounds ai, ee and ar within words - with Mrs Lund.
At home you could ... write an alien name for each person in your family. Which digraphs have you used? Could you use a split diagraph?
Science – The children have been learning about amphibians which we find in England and our local areas. The children have been identifying their similarities and differences.
PE – We are doing PE on Monday afternoons. We are focusing on Multiskills during Spring 1.
Other – Miss Soal has been speaking to The Herald about our recent visit from the ARC Trust. The children will be told if any pieces will be published about our work in Oak Class.
IF YOU DO ANY OF THESE ACTIVITIES AT HOME, PLEASE LET MISS SOAL KNOW SO THAT WE CAN SHARE IT WITH THE CLASS
Between our lessons we like to keep active, dance and sing. Here are a few of our favourite songs and videos from this week:
Counting in 2s: https://www.youtube.com/watch?v=GvTcpfSnOMQ
We have been practising getting changed before the 5-minute timer ends. We love getting changed with this timer playing in the background. Maybe you could practise at home? https://www.youtube.com/watch?v=xTczn5RUgnk