We Time Travelled!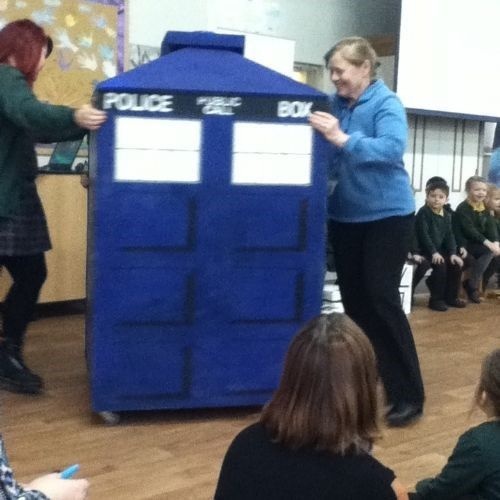 We Time Travelled (Week 12)
YOUR WEEKEND CHALLENGE: To bring in your reindeer outfit for our KS1 Nativity. This could be as simple as a headband with antlers, a brown top and brown bottoms. We are also going to begin decorating our classroom. Please feel free to bring 1 bauble for the tree, and 1 decoration for the classroom (named please).
Changes to Oak Class:

1. We now have a POST CARD wall – if you visit anywhere interesting on holiday or for a day trip, please send Paddington Bear a post card so that we can add it to the wall and his book!

2. In Spring Term we are going to be making some changes to our spellings. Spelling tests will take place as a whole class on Thursdays or Fridays (depending on the week's timetable). The children will ALL be learning the same words which will be taken from Year 1's No Nonsense spelling lists. I am aware this is a different format and I am happy to discuss this with anyone who would like more information! I aim to add more information within the RED BOOKS at the beginning of Spring 1, and any child who does not have a red book will be issued one 😊

3. We will be issuing the children with 'writing diaries' to encourage the children to write more during Phonics lessons. These will be an independent book and kept at school.
During our twelfth week in Oak class we have been learning even more about our topic of 'The Great Fire of London'. What have we been up to?
English –We completed our final writing outcome about The Great Fire of London, Time Travelling back to 1666. We were very excited as we were able to take a trip up to Year 6 to read them our reports.
At home you could … find something interesting in your local newspaper, which you would like to share with the class.
You could also ... find a postcard while you are out, and write about your weekend.
Mathematics – We have been learning about money this week, focusing on 1p, 2p, 5p, 10p and £1. We have been visiting the 10p shop, counting in 10s to find the totals.
At home you could … ask an adult if you could add together the coins in their purse or wallet. Can you write it as a sentence?
You could also ... go to the shop and buy something less than a pound. Which coins did you use? Did you get any change?
Phonics – We have been learning the split diagraph o_e, which makes the same sound oa and ow. We have been looking at the new Tricky Words: people, where, when and what.
History – We have been thinking about primary and secondary sources and how these can inform us about The Great Fire of London. We have been using these sources to inform our Hot Writes and D+T houses. We will be burning the houses next week.
You could also … look through the photographs of the Class Assembly.
Design and Technology – We have designed and built some Stuart Houses out of cardboard boxes. We will be creating a 'pudding lane' next week to see how quickly the fire would have spread.
At home you could ... junk model the nativity scene. Thank you for all of the boxes which you provided Oak Class.
Music – We have been exploring different instruments and the sounds that they make. We have been singing this silly tune, maybe you could try it at home?
"I was walking through the forest when I heard a silly sound, and the sound sounded something like this….(Make a sound using something at home)" What did you hear?
PE – We have been doing both class Zumba and Yoga. We are beginning to practise our dance routine for the KS1 nativity.
At home you could … show your family some of the Zumba moves that we have been doing in PE. https://www.youtube.com/watch?v=ymigWt5TOV8 (Remember that our dance moves are different to the ones in the video).
Christmas – We have been learning songs for our Christmas Nativity. Can you sing along to this one? https://www.youtube.com/watch?v=5szJmNyLQvs
150th Birthday – The children spent Tuesday celebrating St Matthew's 150th Birthday!
IF YOU DO ANY OF THESE ACTIVITIES AT HOME, PLEASE LET MISS SOAL KNOW SO THAT WE CAN SHARE IT WITH THE CLASS! :)
Between our lessons we like to keep active, dance and sing. Here are a few of our favourite songs and videos from this week:
Counting in 2s: https://www.youtube.com/watch?v=GvTcpfSnOMQ
We have been practising getting changed before the 5-minute timer ends. We love getting changed with this timer playing in the background. Maybe you could practise at home? https://www.youtube.com/watch?v=xTczn5RUgnk