The Weald and Downland Museum!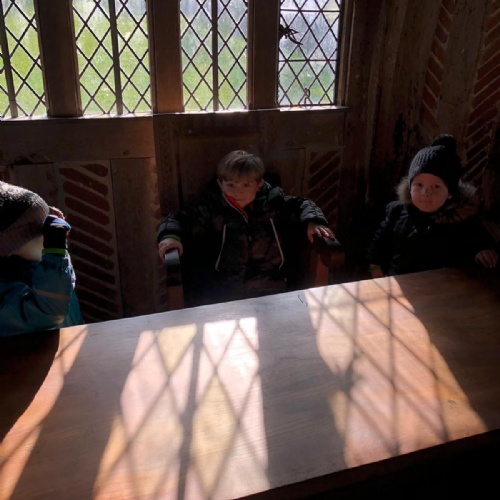 The Weald and Downland Museum (Week 10)
YOUR WEEKEND CHALLENGE: To look for a cardboard box for next week's Design & Technology lessons. Please bring it in by Tuesday! The photographs of our school trip are now in the Oak Gallery.
If your child is showing any anxiety towards fire, we advise that you talk to them about fire safety and what to do if they did encounter a fire. For Example: The nearest fire exit to their bedroom, check that your fire alarms work and knowing how to call 999. Our houses are A LOT safer than those which stood in 1666.
During our tenth week in Oak class we have been learning even more about our topic of 'The Great Fire of London'. What have we been up to?
English – We been writing all about our trip to The Weald and Downland Museum. We looked at how a newspaper report was laid out. We thought of headlines for our pieces of writing. Miss Soal sent some of our writing to The Hearld and the school newsletter. Hopefully we may be published reporters next week!
At home you could … make a News Paper report about something which you have done over the weekend.
Mathematics – We have been learning about money this week, focusing on 1p, 2p, 5p, and 10p. We have been drawing around the coins and then seeing if we could make them into number sentences. We have also started counting in 2's!
Phonics – We have been learning the split diagraph i_e, which makes the same sound as ie, igh and y. We have been looking at the new Tricky Words: their, there, where and what
History – We have been thinking about primary and secondary sources and how these can inform us about The Great Fire of London. We went to The Weald and Downland Museum to learn more about 17th Century buildings. We also BAKED BREAD pretending we were on Pudding Lane.
You could also … look through the photographs of the school trip on our gallery.
Music – We have been exploring different instruments and the sounds that they make. We have been singing this silly tune, maybe you could try it at home?
"I was walking through the forest when I heard a silly sound, and the sound sounded something like this….(Make a sound using something at home)" What did you hear?
Science – We have been making predictions regarding what would happen if we burnt different materials. We then went out with Apple Class, burnt the materials and studied the results. We discovered that straw, wood and cloth burnt the quickest.
At home you could … begin to think about how these results link with the information we know about housing materials in 1666.
PE – We have been doing both class Zumba and Yoga. We are beginning to practise our dance routine for the KS1 nativity.
At home you could … show your family some of the Zumba moves that we have been doing in PE. https://www.youtube.com/watch?v=ymigWt5TOV8 (Remember that our dance moves are different to the ones in the video).
Christmas – We have been learning songs for our Christmas Nativity. Can you sing along to this one? https://www.youtube.com/watch?v=5szJmNyLQvs
IF YOU DO ANY OF THESE ACTIVITIES AT HOME, PLEASE LET MISS SOAL KNOW SO THAT WE CAN SHARE IT WITH THE CLASS! :)
Between our lessons we like to keep active, dance and sing. Here are a few of our favourite songs and videos from this week:
Counting in 2s: https://www.youtube.com/watch?v=GvTcpfSnOMQ
We have been practising getting changed before the 5-minute timer ends. We love getting changed with this timer playing in the background. Maybe you could practise at home? https://www.youtube.com/watch?v=xTczn5RUgnk