The True Story of The 3 Little Pigs!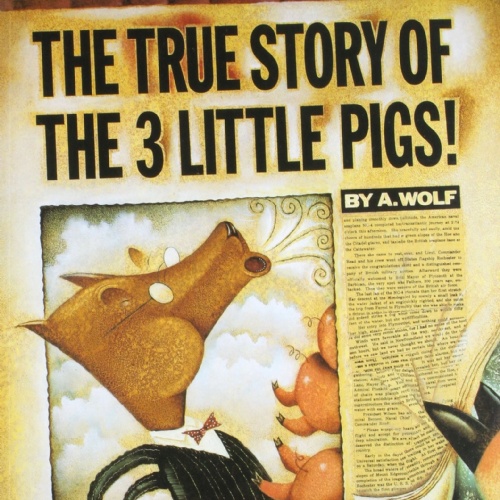 The True Story of The 3 Little Pigs (Week 6)
YOUR WEEKEND CHALLENGE: When watching TV or a video, ask an adult to turn on the subtitles. Turning on the subtitles has been proven to aid with word recognition and can improve reading skills.
During our sixth week in Oak class we have continued our topic of 'Once Upon a Time, in the Deep Dark Wood'. What have we been up to?
English – We been thinking about how we can TWIST a traditional tale. Oak class have written and edited their Hot Writes. The children have been challenged with personal targets, such as to use finger spaces and capital letters.
At home you could … try to write a book review of your favourite Traditional Tale. Can you remember your target and apply it to your writing at home too?
Mathematics – We have been partitioning this week. We have helped two of the Little Pigs share out their bricks. We worked out that if there were 5 bricks, Pig 1 could have two bricks and Pig 2 could have three bricks.
At home you could … find 10 bottle lids and sort them into two piles. How many lids are in each pile? The piles do not need to be even (i.e. Pile 1 has three lids and Pile 2 has seven lids).
Phonics – We have been learning the digraphs igh and oa. We have been reading and writing words with igh and oa in. This week we have also been working on our sound pronunciation (i.e. 'f' not 'f-er'). We have been looking at the new Trick Words: one and by
At home you could … watch this sound video and copy the lady's pronunciation of phonemes. https://www.youtube.com/watch?v=BqhXUW_v-1s
Geography – We have written to our Pen Pals in Texas. We have asked them lots of questions about Harvest Time, and we used their answers within our Church Worship Assembly.
At home you could … think about which countries you have travelled to before. Can you find them on a map, globe or Google Earth?
Music – We have been learning a song for our harvest festival assembly. The song has inspired us to write an email to our friends in America and ask them about Harvest Time in Texas.
Drama – We have been acting out alternate endings for the story of Little Red Riding Hood. We have thought about how each character travels and what they would say.
At home you could … re-tell the story of The Three Little Pigs, acting as the different characters.
Art - We have been painting pictures of combine harvesters with Mrs PH. We mixed different paints together and carefully thought about the shapes we were painting.
At home you could … draw or paint a picture of your favourite fruit or vegetable.
Science – We have been looking around the classroom for objects which are made of different materials. We have thought carefully about their properties
At home you could … look for things in your house which are flexible!
PE – We have been travelling in different ways across a mat. Can you travel with only one point of contact to the floor?
IF YOU DO ANY OF THESE ACTIVITIES AT HOME, PLEASE LET MISS SOAL KNOW SO THAT WE CAN SHARE IT WITH THE CLASS! :)
Between our lessons we like to keep active, dance and sing. Here are a few of our favourite songs and videos from this week:
We have been practising getting changed before the 5-minute timer ends. We love getting changed with this timer playing in the background. Maybe you could practise at home?https://www.youtube.com/watch?v=xTczn5RUgnk