Welcome To Oak Class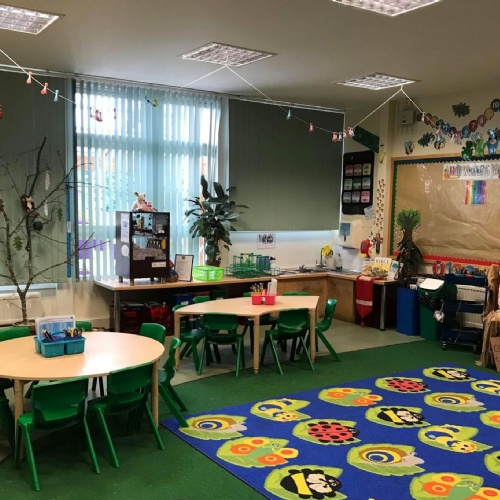 Welcome to Oak Class - What can you find in our classroom?
In Oak Class you can find a variety of learning areas, both inside the classroom and out.
Within Oak Class you will find an assortment of interactive displays, including a Mathematics, English and Phonics 'Working Walls'.
Inside the classroom we have a Bookflix inspired reading area. The children are encouraged to engaged with the themed recommended reads, reading simple sentences, discussing the illustrations and using the puppets to act out a variety of plots. Hopefully throughout the year the children will write 'reviews' for the books on our themed Bookflix board.
The children are encouraged to be "as proud as a cloud" when it comes to their work. The magnetic 'Proud Cloud' board allows children to acknowledge their achievements and show it off with pride. This board displays a mixture of independent work from school and home.
At St Matthew's we value kindness. In Oak Class we have a real oak 'Kindness Tree'. When the children notice a kind deed, they can nominate their friend to be added to the tree. The child's name is written on a leaf, their kind deed recorded, and the leaf is hung on the tree.
In the classroom we have a dedicated prayer area, which features religious objects from a variety of religions. The children are encouraged to explore and utilise this area frequently.
Outside the children have access to a variety of creative mediums and are encouraged to create many different types of masterpieces every day.
To build the children's narrative skills the children also have constant access to role-play and small world resources. These are located both inside and outside to cater to the children's preferences.
In Oak Class we use Monster Points (Class Dojo) as rewards and sanctions. We gain monsters points for following class rules, answering questions and following the school values of FRIENDSHIP, RESPECT, ACHIEVEMENT and FAITH. We can lose points if we forget to follow instructions, but we are always given a verbal warning before this happens. At the end of the week we all aim to have got 10 points, and if we do, we get a sticker! The points collected by Friday are converted into TEAM POINTS.
We do have a few non-negotiable rules in Oak Class, which must be followed for our health, safety and well-being. If any child does not follow these rules their monster points are reset. The children are fully aware of these expectations and are reminded of them often. Oak Class have quickly learnt how to ensure their classroom is safe and often work as a team by reminding their friends IF they spot someone forgetting the rules. An example of a rule which could result in Monster Points being reset is leaving your shoes on the floor, rather than in the child's allocated box. This rule ensures shoes are not lost, saves valuable learning time and dramatically reduces the risks of tripping over.
We also have Whole Class Monster Points. Once we get 50 of these special Whole Class Points we are rewarded with a whole class treat - like popcorn or an extra playtime.
Over this academic year we are excited to see how the classroom with grow and change. Currently much of our work is based around the topic of 'Once Upon a Time, in the Deep Dark Wood'. Our classroom is currently adorned with many woodland themed resources and activities.
Finally, we have got some special friends in Oak … our class pets!
We have a class gerbil called Trevor. Trevor loves to tunnel and dig, but most of all he loves to chew cardboard rolls!
We have Rupert the axolotl. Rupert loves to play hide and seek in his tank! Due to Rupert living in water, the children work together to test the water quality, ensuring it is safe.
Finally, we have two Giant African Land Snails, Jake and George. The children enjoy relaxing with the snails, watching them come out of their shells and glide across their hands.
The teacher in Oak Class is Miss Soal. The teaching assistants in Oak Class are Mrs Lund and Miss Searle.