Working From Home (Week 16) 06.07.2020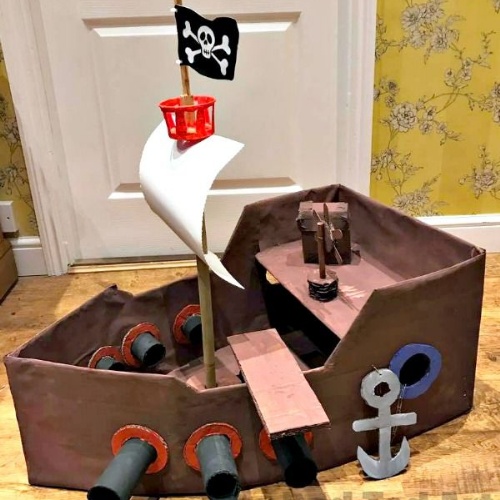 Working From Home (Week 16)
I will continue to update this blog each week with work you can do and things to keep you busy. I hope that you have all had a lovely weekend and are ready for the week ahead.
This week we are continuing our topic: PIRATES!
News

-All Oak Class children are invited for our final goodbye before the end of the year. Please drop your children at the gate with Mrs Lund who will send them round to meet Miss Soal and their friends on the field. We sadly have to ask that NO parents come round to the field to aid with our social distancing. Mrs Lund and Miss Soal will bring the children back round to the gate at 11:15 for pick-up. There will be some yummy ice-lollies ready for their arrival. :)
RE
-HOW DO YOU FEEL? It is time to start thinking about next year. How do you feel about moving to Apple Class. Are you feeling happy, excited, curious? Do you have any questions which you would like to ask Mrs Parker and Mrs Woods?
English
Write a letter to Mrs Parker about the things which you are interested in, facts about you and your family and any questions which you may have about going into Apple Class. Remember the key features which you must include when writing a letter:
Your Address, The Recipient's Name, Beginning, Middle and End
If you would like to send it to the school via post we can give it to Mrs Parker and Mrs Wood.
Phonics
- Play SPACE RACE
If you would like to try any of the other games you can use this log in and password:
Username: march20
Password: home
-Add some more 'High Five' hands to your tricky word wall. Have you got these Tricky Words:
January, February, March, April, May, June, July, August, September, October, November, December
- Write the instructions as to how to do a sport or exercise. Sound out the words and underline any digraphs which you can see.
PLEASE checkout the other writing ideas and activities at the bottom of this blog page.
Mathematics
-"Pirate Pete challenges you to build a pirate ship out of junk modelling. Can you identify ALL od the 3D shapes which you have used? What properties do you need to check for?"
- Please also complete the work set on Matheletics!
Design and Technology
- Can you design a coin? Make a coin out of clay or playdough. Use things from around your house to make patters on your coin - following your design.
History
-When was the Golden Age of Piracy? Was this before or after the dinosaurs? The Great Fire of London?
Can you display this information on a timeline?
Science
-Set up a BUG TRAP and see which bugs you can catch. What similarities and differences can you spot between your findings from March/April/May/June?
A few additional writing activities which you could do at home:
1. Writing on the floor and walls outside with chalk (write over them a second time with water on a brush and they will disappear!)
2. Using a squeezy water bottle/paint brushes, writing on the floor outside with water
3. Rainbow Writing - writing every word or letter in a different colour
4. Writing letters for... the class pets, fairies, pixies, dinosaurs (to go in the Tardis), buddies in year 4. (If you wanted to write a letter to me or the other teachers at St. Matthew's, I will happily write and post one back to you)
5. Writing in sand or loose dirt with a stick
6. Writing secret messages (with your finger) on your friends back, hand, arm, foot. Can you work out what they wrote?
7. Setting up a tuck shop, writing lists, labels, receipts, recipes (also great for learning about money)
8. Draw the outline of an animal and write inside the shape about it
9a. Writing words on Post It notes and organizing them into sentences
9b. You could also write words on building blocks or lego bricks and connect them together to make a sentence
10. Set-up a hidden writing den in your house, where you can hide away and write in your own 'personal diary'
11. Speech Bubbles - stick googly eyes on things around the house (chair, cucumber, spoon) and write a funny speech bubble on what it could say. "Do you like my spiky hair Mr Fork"
12. Writing words on strips of paper and making a sentence paper chain