1st October - Planting Seeds and Reading Maps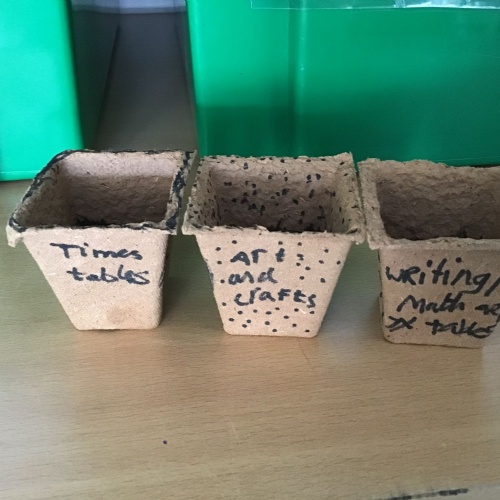 Today we had a fun filled day. For heartsmart, we learnt about how you have to have the right kind of seeds to grow what you want. For example, you can't grow an apple tree with a watermelon seed! We then applied this to our goals and ambitions. The children thought about what they wanted to grow (or achieve) and then thought about what seeds they would need to plant to do this. They wrote their goals on the side of a plant pot, planted their seeds and they are going to watch their dreams grow!
(For all those parents out there wondering, the seeds should start sprouting within about 2 weeks. Just water a little bit daily. In about 3 weeks time, you should have some lovely cress to eat!)
In the afternoon, we played our board games that we had created the other day. These board games had to be designed to help people to learn their map symbols. We had plenty of great games, including finger twister and map monopoly!
After we had played these, we then took out geography outside and learnt about compass directions. They were given instructions and had to work out where the instructions lead them to, using their compass. They then created a game for their partner to follow.
If you would like to see these pictures, I have made a full gallery on our 'Ash Class Gallery' section, entitled, 'Map Skills.'