My lockdown update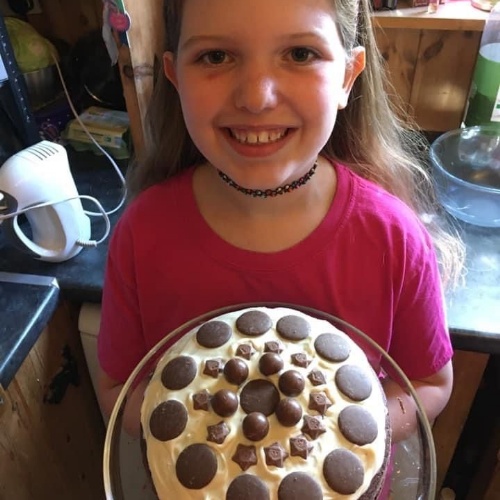 HI everyone,
So far this lockdown I have been baking lots of cakes, I have made a lemon one, some chocolate ones (including my mums birthday cake) and a vanilla one for Easter. I also helped make some hot cross buns, scones, crumble and we have made some summer yummy gooey chocolate crispy cakes like we get at messy church.
I have also been practising on my bike a lot and I now love riding it. I am practising taking my hand off too. I went on a long ride in April over the ranges behind my house and had a lot of fun.
I went virtual camping at home on 30th April as part of my scouts group, we were part of setting a record for biggest ever camp. For this I needed to pack a bag, set up camp, do a scouting activity (I picked a hike and I jumped in puddles and got my boots soaked) then I had to cook dinner, build a camp fire (we used a candle and lolly sticks and roasted marshmallows and made smores) then we slept in our camp all night.
My dad taught me how to use a saw and a drill, I had fun with these helping him build a shed.
I have been doing some of the work on the website, but its not the same working at home and I don't really like it, I miss us all being together in class and get distracted at home a lot. I have done half of the wordsearch and think its great.
I wrote a poem a couple of weeks ago for Earth Day and we went litter picking to do something to help the earth.
I've been enjoying the sunshine and hope you have too.
I will share more stuff again soon
from Liberty xxxxxxxx