Maisy Callow (no. 1) lockdown blog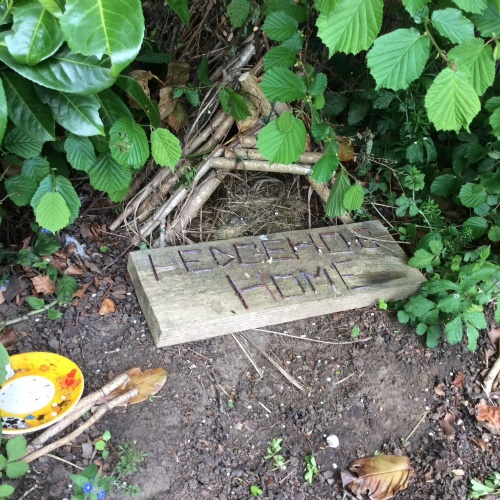 Hi everyone, this is Maisy and I'm going to tell you about what I've been up to in lockdown.
During this time I thought about making something out in my garden for the wildlife that we get, so I decided that I would make a hedgehog house. I made it out of all things I could find in my garden. My sister and I used branches from a bush my mum cut back, twigs that had fallen from a tree and garden wire to hold it all together. I made a sign too but I don't think the hedgehogs 🦔 can read it!
Over the last couple of days I've been leaving food out for them in the evenings and seeing if they visited in the morning. Some nights they come and some nights they don't. There's no hedgehogs living in the hedgehog house yet though. My family and I are now wondering if these visits were from a hedgehog or not, so we thought that one night when it's a bit warmer we will camp out there and see if it is a hedgehog. One morning I tricked my dad, saying that there was a hedgehog living in the hedgehog house. I hid my dogs little hedgehog toy in there and he fell for it. Ha ha!🤣
Apart from that, I have been doing a lot of TT rockstars (I'm pretty good now!). I've been doing my transition pack and I have now decided what to be when I'm older. I have also been keeping in contact with India, we FaceTime every now and again. She seems fine. So how are you all getting on?
Bye, for now 👋🤗